'Strikes' delay return of steelmaking to SSI Redcar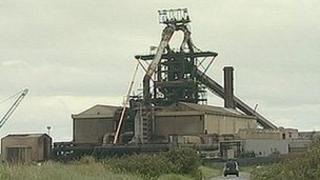 Industrial action and bad weather are being blamed for a further delay to the return of steelmaking to Teesside.
Thai firm SSI had hoped to restart the blast furnace at the former Corus site in Redcar on 8 December, but technical problems delayed that until January.
However, the company said further problems, including wildcat strikes by construction workers, had meant a further indefinite delay.
The site was mothballed in 2010 with the loss of 1,600 jobs.
A spokesman for SSI said: "SSI UK has today announced that due to outstanding work still to be completed on the blast furnace it will not be possible to restart the iron and steel making operations at its Teesside site on 6 January, as previously targeted.
"The delay is due to several factors which have occurred in recent weeks, including industrial action, unfavourable weather conditions and additional unplanned work.
'Challenging target'
"Every effort is being made to minimize the delay and restart the plant as early as possible in the new year."
The company said its recruitment and training programme, which has seen about 1,000 staff taken on, would not be affected by the delay.
Phil Dryden, chief executive of SSI UK, added: "We are disappointed that we have not met our target date for completing the work at the blast furnace.
"But as I have emphasised before, we set ourselves a challenging target and did not build any flex or margin into the programme to cater for the issues which have brought about this delay.
"On a positive note, the rest of the elements of the restart programme are on target, including work on all the other parts of the manufacturing assets, the recruitment programme and the procurement of raw materials.
"I appreciate very much the support shown to us and I remain confident that we will have a successful start up to the operations in the new year."