John Atthey named UK's youngest bridge grandmaster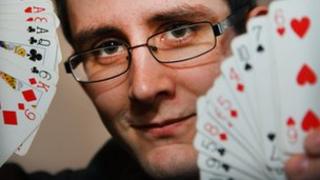 A bridge player from County Durham has been named the youngest grandmaster in the country.
John Atthey, 26, from Darlington, has been playing the card game since his father taught him the game when he was 10.
He has gone on to win a string of international titles and has represented England and Great Britain in competitions.
His career highlight so far was winning the Tollemache Cup, an inter-county championship, for the second time in February.
Mr Atthey has taken about seven years to build up the 120,000 points which are needed to be awarded the coveted grandmaster title.
Players accumulate local, green and gold points. To become a grandmaster at least 600 points must be "green" which are won in national events.
Mr Atthey said: "Once I started getting some good results, it was something I wanted to continue and improve and challenge myself with."
'Partner's habits'
Having studied mathematics at University of Exeter, the grandmaster admitted his background can give him an edge.
He said: "Having a general mathematical background can help. You often want to calculate what the best thing you can do is using percentages.
"But there are a lot of players who aren't mathematical that are very good players."
He is now an audit senior at an accountants where he plays with colleague Chris Owen.
The pair get together to play bridge about once or twice a week and regularly take part in tournaments.
He said: "With partnership games you need to have a lot of understanding about what your partner's habits are, what they think and what you expect them to do."
They took part in the European Championships where they were named top UK pair.
He said: "I love the mental challenge of bridge and there's a good social element to the game which I enjoy.
"There are only 15 grandmasters in the north of England, some of whom have years and years of playing experience, so it's a real honour to be among them."