Charity food hampers for homeless in Teesside and County Durham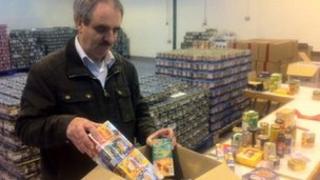 Standing among 40 tonnes of food piled as high as my head, it is hard to imagine that all these beans, potatoes, jams and marmalades were about to go to waste.
They were part of a promotion that had come to an end, or were surplus to demand and risked passing their sell-by-date.
Now, they are on their way to people on Teesside and in County Durham who are in need of help. People who are homeless, have been abused, have an addiction or now - more increasingly than ever - are in poverty.
Those supermarket donations are being boxed together with more seasonal goods like stuffing, chocolates and Christmas pudding to make festive hampers for people who would normally treat Christmas Day like any other.
John Robinson, is one of the volunteers for the Tees Valley Christian Charities Forum which is behind the project.
He said: "We've found that because of the recession more people do need our help in the community.
"We've already distributed around 500 hampers and more are going out today."
Hamper 'wonderful'
The forum is made up of about 50 charities and churches in the Teesside and County Durham area. Its aim, is to raise money for people who are less fortunate and is helped by organisations in other parts of the North East of England like the Salvation Army, in Sunderland, and the People's Kitchen, in Newcastle.
Another charity which is picking up boxes is Three Score Years and 10, which helps older people in the Stockton area.
One of its fundraisers Amanda Rylander said she believed a lot of pensioners are slipping through the benefits net.
She said: "The council is dropping one of its bandings, making it more difficult for them to apply for the money that they need."
She said the hampers were making a huge difference because the pensioners could only afford basic food.
"I went to deliver one this morning to a woman in her 60s who's chronically ill," Ms Rylander said.
"She told me it was 'wonderful' - she'd never even had a hamper before."
It is not just food that is being collected here, The forum also gives out nappies, toiletries, furniture and clothes.
There are piles and piles of fake designer jumpers and jeans which have been confiscated by Trading Standards officers. They are then rebranded so that they can be handed on to charities and given a good home.
Times are hard, but when you look around this warehouse you see that even during a recession, there are volunteers who give hope to others.