Zurbaran paintings deal back on track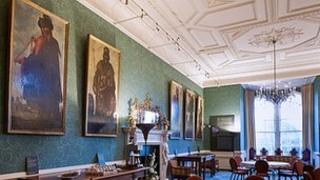 A deal to keep the set of 17th Century paintings hanging in the home of the Bishop of Durham has been agreed.
It was hoped the 12 works by Spanish artist Francisco Zurbaran would stay at Auckland Castle after a £15m donation by investment banker Jonathan Ruffer.
However, after a row with Church Commissioners, who own the works, Mr Ruffer stopped the deal.
Now Church Commissioner representatives and Mr Ruffer have agreed to keep the paintings at the castle.
Mr Ruffer had donated the cash to a campaign to keep the works in County Durham and also pledged to turn Auckland Castle into a major tourist attraction.
But he withdrew his offer with "great sadness and an embarrassment" after claiming conditions had been put on the deal by the commissioners.
The paintings have hung in Auckland Castle, the home of the Bishop of Durham, in a room specifically designed and built for them for 250 years.
The Bishop of Durham Justin Welby said: "On the assumption that the agreement is finalised, this is a very good bit of Christmas news for the area."
The agreement also includes developing the castle into a Christian resource and a centre for regeneration of the area.
The details of the agreement are subject to approval by the Church Commissioners.
Further announcements are expected to be made in the New Year.