Union fears over mothballed Ensus plant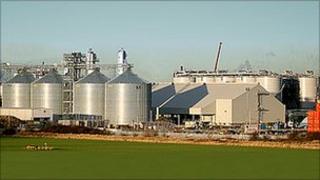 Union chiefs have raised concerns about the future of a biofuel plant which has been mothballed for eight months.
The Ensus bioethanol refinery in Wilton, on Teesside, "temporarily" closed in May 2011, blaming dwindling demand and competition from the US.
It was supposed to reopen in September but production has not yet restarted and Unite fears it will never reopen.
The firm has declined to comment but its 100-strong workforce are on full pay.
The £300m plant was only opened in 2009 and at the time of its closure the company said it was "confident" this was a temporary step.
But Bob Bolam of Unite said: "The company has looked after its staff in the intervening period.
"But if the plant went down it would be a massive blow, not only for Teesside and Ensus, but all the supply chains."
When it was in production, the plant was using one million tonnes of wheat a year to produce ethanol, high protein animal feed and carbon dioxide for the food and drinks industry.
At the time of its closure, Ensus said: "To ensure the long-term health of the business for both our customers and our employees we have decided to temporarily shut down our facility whilst market conditions remain depressed."