Darlington FC fans face uncertain future with optimism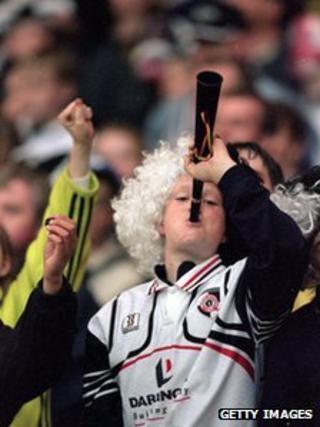 As this is the third time Darlington Football Club has been in administration in nine years, many fans are refusing to give up hope.
Despite the club's joint administrator Harvey Madden warning "every day is critical if the club is to survive", many supporters are optimistic their club might be saved.
Doug Embleton, spokesman for Darlington FC Rescue Group, said: "Some fans may say this is just another crisis, other fans may say it's the end.
"The situation at this football club and in this town has gone on for so long. I've built up a gradually increasing immunity."
Karen Glencross, vice chair of Darlington Supporters' Club, agrees.
"I'm assuming that we're going to survive. I want us to survive," she said.
Her father first took her to a match when she was 13.
"I got hooked very, very quickly," she said.
"I had a brother and a sister but my brother was never interested and my dad always liked football but he had nobody to go with. We went together for a long, long time."
'Bright orange football'
Mr Embleton's introduction to the club was in 1954 when he was seven.
"My dad took me down. I think it was an Easter Monday, we played Barrow, it was nil-nil and I sat on the fence near the goal," he said.
"I vividly remember the colours, because we used to play with a bright orange football in those days.
"I remember the smell of liniment, because the only physiotherapy tool available was to rub liniment on everybody."
Years later, Mr Embleton took his daughters to matches.
"Probably some of the nicest were the times in the Conference, when Brian Little got his promotion, when, for a couple of games, we went along with my dad, myself and my two kids," he said.
'Happy family'
He believes the 129-year-old club lost something when, in 2003, it moved to its current ground.
"When the club moved away from Feethams to the Arena... its history, its tradition, its friendliness was left behind," he said.
He questions the move to what he claimed was a "20,000-seater stadium which nobody ever wanted".
"It is a lower-league club, with a dedicated band of supporters, which has an occasional surge of one promotion or an FA Cup run and everybody's really very happy, within that family," he said.
The Blue Square Premier side went into administration on 3 January. Speaking in the House of Commons on Thursday, Labour MP for Darlington Jenny Chapman said the club could go into liquidation in "days, if not hours" if it did not receive help.
But, if Darlington FC folds, both Mr Embleton and Ms Glencross said they would not follow another club.
"If we didn't survive I think that would be it. I think me and football would be done. I certainly couldn't align myself to another team," she said.
"Once you've had one team, you don't jump from one to the other."