Gas field order brings 250 jobs to Wilton on Teesside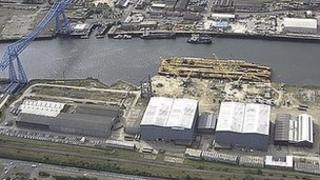 Up to 250 jobs are being promised after a Teesside firm won a multi million-pound contract to build a production platform for a North Sea gas field.
Wilton Engineering Services says the deal with ConocoPhillips will mean 100 new jobs at its site near Middlesbrough and a further 150 sub-contracted posts.
WES will build a 2,200-tonne compression module for ConocoPhillips' Britannia field off Aberdeen.
Construction work is expected to be completed by March 2013.
Bill Scott, chief executive officer of Wilton Group, said: "To have this project carried out in Teesside will be a great boost not only to our workforce, but also the wider local economy.
"The award further enhances our reputation to build large-scale engineering projects and endorses the skills of our talented workforce."
Energy Minister Charles Hendry added: "This is great news for Wilton and great news for the UK economy with 250 quality jobs being supported over a prolonged period in the North of England.
"I am particularly pleased to see companies like ConocoPhillips acknowledging the excellent engineering and construction capability which exists on their doorstep and in doing so helping to grow the UK industrial sector."
Wilton Engineering occupies a 50-acre construction yard with design and large fabrication facilities in Middlesbrough.
The 30 metre (98ft) long module will be used to accommodate one of the largest compressors in the North Sea and will extend the life of the Britannia field and enhance production from other existing wells.