Millionaire Jonathan Ruffer pledges to tackle deprivation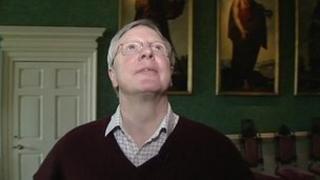 When a friend asked millionaire philanthropist Jonathan Ruffer what skills he had to tackle urban deprivation, his response was, "well, I've got a nice smile".
The conversation continued, "so you think having a nice smile will help people get off drugs?" To which the Stokesley-born investment banker replied "well, we'll see won't we?".
Mr Ruffer is already known to many for shelling out £15m to save a set of Christian paintings dubbed "the Zurbarans", which hang at Auckland Castle in County Durham.
He plans to spend a further £18m turning the castle into a Christian heritage centre and tourist attraction.
After a working life away from his native North East, he says now is the right time to return.
"I was brought up in Stokesley, just south of Middlesbrough and am a good example of all that is worst about people like me.
"I was educated in the South, I went straight to London and made my fortune as an investment man," said Mr Ruffer.
"Although I was quite happy to say 'yes I'm a North Easterner' and indeed my dad, who only died last year and the family home was there, the truth was I did what too many of us do, which is to leave the area instead of throwing my weight behind the locality.
"So I thought to myself a couple of years ago that when I was 60 I would go part-time on my investment business and come up and work with depravation in the North East."
Mr Ruffer said he wanted to set up teams in some of the region's most deprived areas and back a range of projects generating jobs and promoting culture.
He added: "I think I can do two things. I can encourage people and I can unify people.
"I've been involved with work in urban areas nationally for 20 or 25 years, through institutions like the Church Urban Fund and have been interested in building teams of people who can help in the regions.
"But if you try to solve a social problem with just money, you're lucky if you don't make the problem worse.
"What you need to do is find a way where you haven't got someone with money looking down and offering a blessing to someone who is touching their forelock and looking up expressing gratitude.
"The real heroes in these areas are the people who either move in and live in the communities or who had enough going for them and could have moved out, but chose not to. They are the people I want to encourage and get onside.
"I don't have answers to all the questions, but I do know that I have a heart for the region and what does the region mean, well it means people.
"And I hope that when I look back it all when I'm 99, that I have answered a few of those questions."
Mr Ruffer said he was looking forward to working with the new Bishop of Durham, the Right Reverend Justin Welby, who he described as a "fantastic man."
He added: "I believe that he and I have both independently chosen to come to County Durham and although we have both got many other things going on in our lives, our first love is County Durham.
"What he can absolutely see is that if the North East is going to sparkle again then every aspect of it needs to be regenerated.
"People must find a faith, the jobs must come again, the money must flow again.
"There must be a sense of pride and really feeling what's true, which is that if you come from the North East you come from the best part of the world."