Middlesbrough FC exhibition marks 25 years since 'rebirth'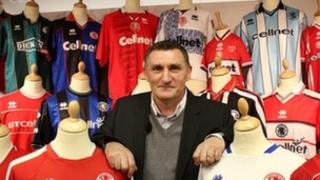 A new exhibition at the Dorman Museum celebrates 25 years since the "rebirth" of Middlesbrough FC.
The Back from the Brink exhibition is partly funded by a £42,900 Heritage Lottery Fund grant, supporting the Middlesbrough 86 project.
The exhibit centres around 1986, when the club nearly folded under financial pressures.
There will be a chances for fans to share their memories at the exhibition and become part of the project.
Fans' memories
Project director Alan Spence said: "Middlesbrough 86 is all about remembering the past and celebrating the future, so the exhibition features memorabilia that relates to pre and post-1986 as well, of course, from that dramatic era when we so nearly lost our beloved football club forever.
"A key element of the project is about recording the memories of Boro fans, so we will have a team of volunteers on hand at the museum to give them a chance to recall significant, humorous and emotional memories about supporting the club over the years."
Boro manager Tony Mowbray launched the three-month-long exhibition, which is open every day apart from Monday until April. Entry is free.
An England international cap awarded to Alf Common, who became the world's first £1,000 footballer when he joined Boro in 1905, will be on display.
Boro legend Bernie Slaven, who was a team-mate of Mowbray's in the club's Class of '86, has loaned several Player of the Year trophies and all seven of the match balls he received after scoring hat-tricks for the club.
Middlesbrough FC itself has loaned a number of previously unseen items including the club's minute books from directors meetings during the 1890s when Boro were still members of the Northern League.
The books are displayed alongside the Dorman Museum's own memorabilia from Boro's early days, including MFC member's cards from the mid-1880s and a season ticket to watch the club's Middlesbrough rivals, Ironopolis, for the 1890-91 campaign.