Driver detained for causing death of boy, 9, in Teesside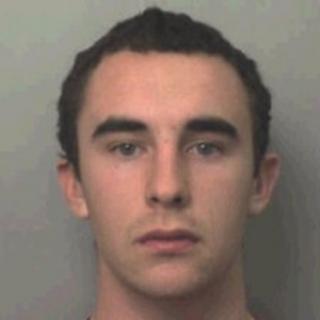 A teenage driver has been detained for three years for causing the death of a nine-year-old boy on Teesside.
Brandon Maggs died in hospital after he was struck by a car in Ingleby Barwick, near Stockton, on 15 July.
James Burns, 19, of Norton, Stockton, had previously admitted causing death by dangerous driving.
Teesside Crown Court had heard the pizza delivery driver must have been travelling at a speed of at least 51mph, in an estate with a 30mph limit.
As he negotiated a bend on Roundhill Avenue, Brandon had just started to cross the road on his scooter.
Burns tried to stop his Renault Clio but went into a skid and was unable to avoid hitting him.
The judge told Burns: "This was an accident caused solely by your excessive speed."
He sentenced him to three years youth detention and disqualifying him from driving for four years.
He added that Burns "has now got to live with the fact that he has taken the life of a young boy with great potential."
Speaking after sentencing, Tanja Maggs, Brandon's mother, said: "I don't consider it to be an accident.
"If Burns had driven at the speed that is so clearly stated by the law for good reason, Brandon would be here today, and not in the graveyard.
"I now only have my imagination as to how Brandon would have turned out to be, I am sure he would have been a good man who I would have had pride in.
"I cry for Brandon every day, for all of the things he will miss out on.
"He will never go to university, or fall in love and get married.
"He will never hold a child of his own, or experience independence or freedom from earning a living.
"I cry that these dreams of a nine-year-old boy will never become a reality, because of one person taking all of that away by driving dangerously."