Former Corus steel plant production moves step closer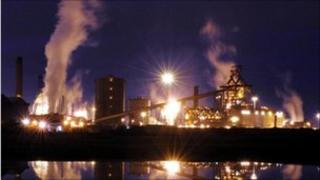 A milestone at the former Corus steelworks blast furnace in Redcar has been reached with the furnace being heated up again.
Owners SSI UK say the finishing line is in sight to resume production at the plant where 1,600 jobs were axed nearly two years ago.
The plant was mothballed in February 2010 when it was owned by Tata Steel. It was later bought by Thai firm SSI.
The heating process is expected to take a number of weeks.
The four stoves, which are gas-heated to about 1,200 C (2,192 F), heat a blast of air which is blown into the furnace during the iron-making process.
Phil Dryden, chief executive of SSI UK, said: "We have made good progress on the project during January and over 90% of the work is now completed."