Auckland Castle Zurbaran paintings deal completed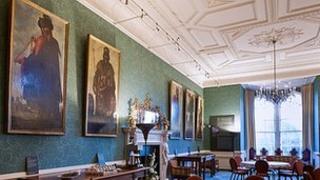 A deal for the sale of historic paintings by Spanish artist Francisco Zurbaran and Auckland Castle has been agreed after initial problems.
Philanthropist Jonathan Ruffer gifted £15m to a campaign to save the 17th Century paintings, after withdrawing his offer at Christmas.
A trust will now be set up to manage the castle and the paintings.
Mr Ruffer said: "It is an extraordinary historic building and the home of the story of Christianity in Britain."
The 12 paintings, which depict Jacob and his sons, have hung in Auckland Castle, in a room specifically designed and built for them, for more than 250 years.
Mr Ruffer said: "Auckland Castle is right in the centre of where all this happened and nowhere else in England is that story told."
The deal to save the works by Zurbaran was halted when Mr Ruffer had a row with Church Commissioners who owned the works.
Now the sale has been completed it is hoped Auckland Castle will become a tourist attraction.