Tanker drivers at South Killingholme and Stockton on strike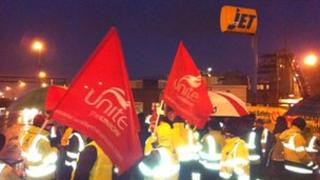 A 13-day strike by tanker drivers on Teesside and North Lincolnshire over pay and conditions has begun.
Unite union members, who work for the fuel haulage company Wincanton, were due to walk out on Thursday, but the move was called off for further talks.
However, the talks broke down and workers in Stockton and South Killingholme walked out at 05:00 GMT.
Wincanton said drivers earned an average of £45,000, but Unite accused it of not giving "job stability".
Unite claims the two-week action will hit deliveries to Jet garages.
National officer, Matt Draper, said: "Unite entered into the talks to resolve the dispute.
"We offered a number of concessions. It is a shame that our commitment to the workforce was not shared by the employer.
"Wincanton's failure to offer these highly-skilled drivers even a modicum of job stability has left the union with no option but to resume strike action."
An earlier strike by drivers, following a ballot in January, only recently ended.
A statement from Wincanton said: "It is becoming increasingly difficult to make progress in this dispute because Unite continues to move the goal posts and there is a complete lack of consistency in its demands.
"This is despite the fact that we have already met, and exceeded Unite's initial conditions for averting action and providing job security for our drivers.
"We have a duty of care to protect the employment of our drivers who are among the best rewarded in the UK with an average total income in excess of £45,000 per year for an average 37-hour week."