'Serious' disease found in rare North Pennines plant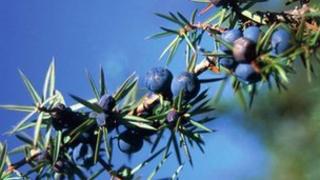 A rare species of plant in the North Pennines is under risk after a "serious" plant disease was discovered.
Scientists at Moor House - Upper Teesdale National Nature Reserve, found the disease in juniper bushes.
Caused by a fungus-like organism, it can eventually kill the plant by infecting its root system and causing the foliage to die off.
Dr John Morgan, from the Forestry Commission, said it was "disappointing" it had affected the "important" site.
The protected Teesdale population is the second largest in the UK.
The disease was only confirmed for the first time in the UK last year, when it was found at two sites in Scotland.
Dr Morgan said: "Juniper habitat is rare and a number of people and organisations are working hard to protect and restore it.
"It is therefore especially disappointing to learn that this very damaging disease has affected such an important site in England."
The cause of the infection is so far unknown but scientists believe it can be transmitted in ground water, infected plant material and soil, making it hard to prevent further spread.
Natural England, which manages the nature reserve, is working with the Forestry Commission and the Food and Environment Research Agency to establish how widespread the infection is to contain the disease and protect the existing environment.