Stockton family defy Buchanan Street demolition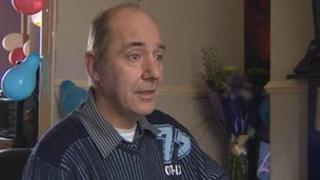 The demolition of a run down and vandalised Teesside street is being held up by a family who refuse to move.
Stephen Cooper, his wife and three children, are the last occupants of 70 properties Stockton Council wants to bulldoze in the town's Buchanan Street.
Mr Cooper claims council bosses paid more for neighbouring properties and is holding out for a better deal.
Stockton Council said the £55,000 it offered was a "fair price" for the terraced house.
Mr Cooper, who has lived in Buchanan Street for 25 years, claims neighbours were offered £67,000 for their properties.
Stockton Council has insisted it based offers on the market value.
The planned demolition is part of a multi million-pound regeneration programme.
Mr Cooper, 52, said he was determined to remain in the house, despite all those around him now being boarded up and subject to vandal attacks.
He said: "All I want for my house is a fair deal and the council aren't doing that.
"The first offer was £50,000 and the second was £55,000. They've tried bullying me and telling me they'll knock houses down around me."
A Stockton Council spokesman denied Mr Cooper had been bullied in any way.
He said the authority believed its offer to Mr Cooper was fair and hoped it could reach an agreement.
However, he said if no deal could be reached the council would reluctantly use a compulsory purchase order to take control of the property.