Man admits throwing eggs at Middlesbrough MP Sir Stuart Bell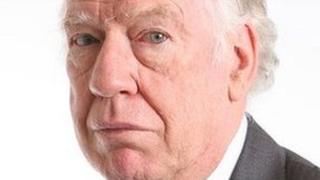 A man has admitted throwing eggs at Middlesbrough MP Sir Stuart Bell at a Remembrance Sunday parade.
Terry Dixon, 54, from Liverton Avenue, Middlesbrough, had originally denied assault on the town's Labour MP on 13 November last year.
Dixon changed his plea at a Teesside Magistrates' Court hearing on Monday.
The court heard Dixon had a long-standing grievance with the MP over the way an attack on his son was investigated by police 20 years ago.
His lawyer John Nixon told the hearing: "Many years ago my client's son sustained horrific injuries in an assault. My client found his son unconscious in an alley.
"A man was convicted of an assault against him. But he doesn't think this investigation was carried out thoroughly or properly.
"The history is that my client contacted Stuart Bell seeking assistance and full assistance was not given. My client's actions were borne out of a long sense of injustice."
Sir Stuart declined to comment on the case on Monday.
Dixon is due to be sentenced on 5 March.