Teesside vlogger reaches people in Alaska via YouTube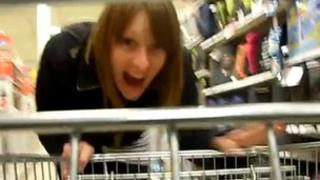 Charlotte Alana Luke takes building the reputation of Middlesbrough personally, by making vlogs about life in the town.
The 29-year-old works in promotions and in her spare time she shares weekly video diaries with the world on YouTube.
She said: "I get comments from all over the world, there's one man who was born in South Bank and now lives in the US that comments on my vlog.
"He loves seeing Middlesbrough in such a personal way, seeing the streets and the shops, and the people... but through my eyes.
"It's an honour when people message me, including ones from Alaska, saying how they are learning about life in the UK from what I do - I never expected my vlogs to reach that far when I started them."
Miss Luke, who learnt her skills at Teesside University, says it is like creating a moving photo album of the world unravelling around her, but admits it is not for everyone.
3,000 views
"It's a hobby, but like those who enjoy pigeon keeping, it's not for everyone, and some folk think I'm mad," she said.
"Most people who did my course at university have gone on to work in the film and media industry, but I love that I can use my skills to show people how nice a place Middlesbrough is to live."
Miss Luke moved to Teesside from Whitley Bay aged 19. Her friends, family, and partner of eight years Kristian feature heavily in her mini films, which get thousands of hits across the globe.
She said: "I started on 5 November 2011 and get anything from round 600 views for earlier vlogs, up to 3,000 views on recent ones. My channel has 230 subscribers.
"It takes me a few hours to make each vlog. I film constantly, and then watch it all back to pick out the best bits, then I edit - making the short films that make their way to the internet."
Her vlogs also follow the Ten Feet Tall events she is involved with in Middlesbrough, showing behind the scenes of the Intro festival and Stockton Fringe as the stages are being built, the admin work being done, and all of the hard labour before the crowds arrive, as well as the problems when they do.
After a year of vlogging, Miss Luke has started watching them back, taking them one a week so she is looking at what she was doing exactly 12 months earlier.
"I have an atrocious memory so it's nice that I have the vlogs to remind me of what I got up to at this moment last year.
"It's weird watching them back and seeing shops that aren't there any more, or a street that looks completely different a year on."