Redcar church receives £97,000 of funding for urgent repairs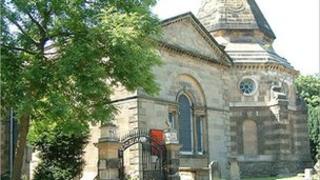 A Grade I listed church in Redcar has received nearly £100,000 from the Heritage Lottery Fund (HLF).
St Cuthbert's Church in Kirkleatham, has been awarded £97,000, which will be used to carry out urgent repairs to its mausoleum and spire stonework.
St Cuthbert's vicar, the Reverend Malcolm Jackson, said he was "delighted" at the funding award.
Five other Grade I and II listed churches in the north-east of England have also received funding.
The first part of St Cuthbert's Church was built in 1731, with the mausoleum built later in 1740 by architect James Gibbs in memory of Marwood William Turner.
There are a number of marble monuments within the mausoleum, dating back from 1740 to 1810 that require attention.
'Spiritual discovery'
The grant will enable this work to be carried out, as well as repairs to the mausoleum spire stonework and ceiling.
Mr Jackson, said: "We are absolutely delighted the Heritage Lottery Fund has been able to give us the £97,000.
"With the church being a Grade I listed building, we need specialists to carry out the work and it is not the kind of money the church could raise on our own.
"We need as much help as we can get and it is wonderful they have offered it to us."
The money comes from the Repair Grants for Places of Worship scheme, which is funded by HLF and administered by English Heritage.
Carol Pyrah, from English Heritage North East, said "We know that maintaining places of worship and developing them sensitively is a major challenge.
"Such fine buildings are a great resource, as places of spiritual discovery, landmarks, events venues, places of solace and architectural treasures.
"These grants celebrate both what they are and can be, whilst supporting the people who care for them on behalf of us all."