Group bid to keep Darlington Arts Centre open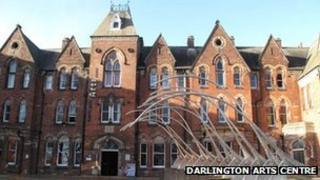 A community group has come up with a plan to save Darlington Arts Centre which is due to close after the council withdrew its £500,000-a-year subsidy.
Darlington for Culture (DfC) has said it has more than 70 volunteers ready to run the facility, which could also operate with reduced hours.
However, the council said even this would require substantial funding.
It described the closure plan, which is set to be finalised on 1 March, as a "difficult decision".
The centre, on Vane Terrace, will close in July and be put up for sale, with the proceeds put back into arts funding in the area.
Nick Brewster, chair of DfC, said that the group's alternative made sense "financially and practically".
"With imagination, scaled-down activities and a plan for development we genuinely believe that the arts centre could remain open with £200,000 a year," he said.
'Invaluable resource'
"Even if the arts centre has to reduce so far as to only open two days a week we see this as preferable to losing this invaluable resource forever.
"DfC is not precious about who runs the Arts Centre; we just want it to be retained for generations to come and we remain willing, ready and able to work with the council to achieve this in any way that they wish."
Darlington Council said that so long as the building remained in council ownership there would be an annual cost of about £40,000 for insurance, security and maintenance.
It said: "The council has worked extensively with different groups, including Darlington for Culture, to explore if it is feasible for them to take over the running of the building.
"Unfortunately, the figures do not stack up unless we support the different groups with substantial funding."