North Shore Health Academy put into special measures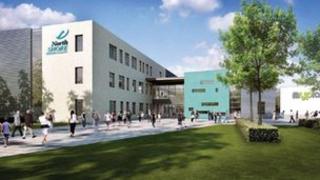 A Teesside academy, which opened less than two years ago, has been put into special measures after being told it is failing pupils.
Stockton's North Shore Health Academy opened in September 2010, but only has 600 pupils despite having a capacity of more than 1,000.
Inspectors said the quality of teaching, pupil achievement and attendance were all inadequate.
School officials have reassured parents improvements are being made.
In acritical report, Ofsted inspectors said the academy, which is sponsored by the NHS and specialises in health-related subjects, lacked leadership and suffered a high level of bad behaviour from pupils.
'Fails to excite'
It said that in 2011 only 32% of Year 11 pupils achieved five or more equivalent GCSE grades at A* to C, including English and mathematics.
Inspectors added: "Teaching is inadequate and, as a result, too many students make inadequate progress.
"Many teachers are unable to impose sufficient order in the classroom. Others do not have sufficiently high expectations of students' behaviour.
"Learning fails to excite, engage or motivate many students."
Acting principal Lynn James, who took over from previous head teacher Chris Coady, who left by "mutual arrangement" said she hoped the academy, which caters for pupils aged 11 to 16, had now "turned a corner".
She reassured parents that steps were being taken to improve teaching standards and pupil attainment.
The academy replaced two previous schools, Blakeston School Community Sports College and Norton School Humanities College.
A purpose-built complex costing £18m is due to open next year.