Middlesbrough's Apollo Male Voice Choir marks 125 years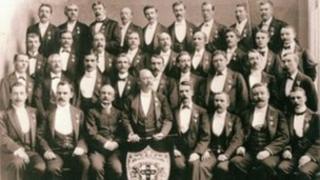 In the 1830s a group of Welshman moved to Middlesbrough to work as ironmakers when the industry was expanding.
When two of the workers were killed in an accident at work, the group of Welshmen performed a concert for the widows and orphans of those killed to raise money for them.
It was from this performance the Apollo Male Voice Choir was formed in 1887.
Now, 125 years on, the male choir is still going strong.
To mark the anniversary an exhibition is being held in Middlesbrough to celebrate the choir's success.
An archive of the choir's certificates, memorabilia, concert programmes, awards and mementoes from their travels abroad are among the items on show to tell the group's story.
The self-funded group, based in Middlesbrough, are also performing concerts free of charge throughout their anniversary.
By gaslight
The group's earliest rehearsals had to be held by gaslight and the men gradually went from strength to strength.
By 1890, the choir was regularly competing and winning music festivals - and even later on shared a stage with a young Luciano Pavarotti.
It is unknown when men in Middlesbrough began joining the choir, but the last remaining Welsh member of the choir - Tom Jones - died two years ago after being a member for more than 30 years.
Today's choir has members from Stockton, Hartlepool, Stokesley and Redcar.
Vic Spencer, 76, from Brookfield, Middlesbrough, became a member of the choir in 1959 after his father-in-law asked him to join.
Mr Spencer said he had never looked back and is still a member 52 years later.
"People come from far and wide to sing with the choir because we have always had a high standard of singing," he said.
"Just because we are a male voice choir, 18-year-olds don't have to think we're all old men that sing classical music.
"Don't think there isn't anything there for me, people should come along and have a listen and try it. Everyone's welcome."
'Family within a family'
Mr Spencer said the choir's "unique" sound was "difficult to pin down", singing everything from popular music and songs from musicals, to international and local songs like The Water is Wide and Bobby Shaftoe.
Their repertoire also includes Welsh and Russian songs which they learnt phonetically, and their own versions of Bohemian Rhapsody and Bridge Over Troubled Water.
"Anything we feel an audience will enjoy, we'll have a go at it," said Mr Spencer.
"Getting up on stage and and entertaining, the pleasure you can give to a room or hall full of people, the thrill you get when you know you have pleased them makes the hairs on the back of your neck stand up and you know you've done well."
Although the group is celebrating their strength and 125 years of singing, its numbers over the years have been declining.
In its heyday, the choir boasted more than 120 singers, but today there is half of that with about 60 members.
Mr Spencer said the group is not just a choir, it is a family.
"The pleasure of being able to stand with a group of people and use the talents that you've got to make the right sound, to be part of that, gives you quite a thrill," he said.
"You get friendship off the people in the choir, you're there to help each other - it's like a family within a family."
The Apollo Male Voice Choir exhibition runs at The Dorman Museum until 20 May.