Pollution controls could lead to job losses at Teesport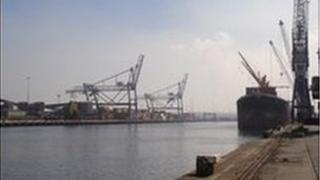 Tighter controls on pollution in the North Sea could lead to heavy job losses at Teesport, according to the group that represents the industry.
The government backed EU legislation will limit sulphur emissions from 2015.
Critics say that it will increase fuel prices, which will see the extra cost passed on to customers.
David Balston, from Maritime UK, said: "We may see some relocation, but I can see some companies deciding to shut down routes as being no longer viable."
He added: "Every single ship going in and out of Teesport will end up with 60 to 80% added on to the fuel bill.
"Freighters will look very carefully and say 'can I afford to ship from there or can I move to somewhere where the seas crossing is very much shorter?'"