Claire Gray jailed for life for killing brother Ashley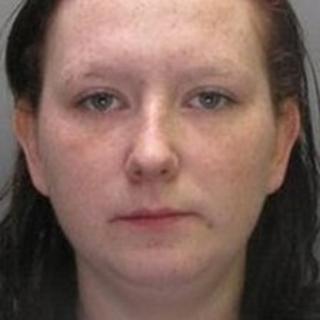 A County Durham woman who killed her brother so she could go back to jail has been sentenced to life in prison.
Claire Gray, 22, from Coniston Road, Ferryhill, will serve a minimum of 12 years after she pleaded guilty to murder at Teesside Crown Court.
Ashley Gray gave her a 13-inch carving knife and dared her to attack someone, saying "go on then", the court heard.
Mr Gray, 24, died from a stab wound to the chest on 14 October. Judge Peter Fox QC said it was a "tragic case".
The court heard Gray had written on Facebook that she wanted to stab someone so she could go back to jail, saying she had no real friends on the outside.
'Hope he dies'
She attacked her brother at a house party in Ferryhill on 14 October after repeating her threats to stab someone.
He died in Darlington Memorial Hospital.
Gray was arrested soon after the stabbing at her grandmother's house nearby after telling a departing party guest "I hope he dies", said prosecutor Mark Giuliani.
Gray was devastated by her brother's death, and her family want her back as soon as possible, said Brian Russell, defending.
The judge said: "I am able to take a merciful view of your intention to cause serious bodily harm rather than to kill.
"There was a lack of premeditation in this case, it was on the spur of the moment and you are only 22 years of age."
The judge added: "No-one need be friendless."
Gray had already spent time in jail after being sentenced to three years in 2009 for stabbing one of her brother's friends.