Woman detained after Saltburn seafront stand-off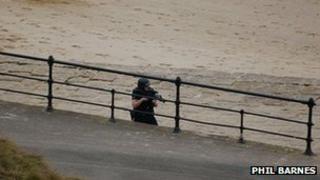 A 40-year-old woman has been detained under the Mental Health Act following a stand-off on Saltburn seafront.
Cleveland Police received reports of woman believed to have suspicious items on her at about 11:00 GMT.
Armed officers, trained negotiators and emergency services attended the scene where they talked to the woman until she was detained at 19:20 GMT.
A police spokesperson said: "This was a fairly lengthy incident with a successful outcome."
All road closures are now removed, for pedestrians and traffic.