SSI staff 'determined to do best' for Redcar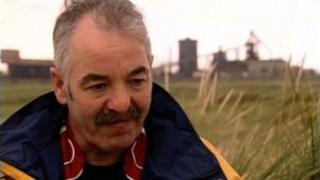 When the blast furnace at Corus in Redcar was mothballed in 2010, Teesside mourned the loss of an industry that had spanned 160 years.
Some 1,600 workers lost their livelihoods and their colleagues. One of them, Mick Lee, from Middlesbrough, said he lost his direction.
Having worked as a blast furnaceman since the age of 18, Mr Lee joined the plant when it was owned by British Steel.
Thirty-eight years later, he is now part of the team preparing to make steel again for the first time in two years, under the new management of SSI.
'Devastating news'
The plant is due to become operational over the weekend.
Mr Lee, who went into the steel industry in July 1974, said it was devastating when staff learned the Corus plant was to be mothballed in 2010.
Problems had originally surfaced at the company in 2003, but it was not until the end of 2009 that mothballing became a real threat.
Mr Lee said: "I was 52, other lads were in their 50s. We couldn't help but think: 'Why now?' The day it was announced it was just shock.
"At first I felt cast aside by Corus, they didn't want to know us. At the time they'd just brought in new lads, we were training them up to replace us, a bit of new blood. They were meant to be the future of steelmaking on Teesside."
Of the staff who left Corus, about 250 were matched to jobs with the firm elsewhere in the UK and more than 200 left with plans to start their own businesses.
The remaining ones, such as Mr Lee, were left undecided.
He said: "I didn't know what to do. I'd never done anything else.
'Monotonous days'
"I went to the jobs office. I'd been in the steel industry since I was a boy and I'd never been out of work since I was 15 years old. I had a two-year sabbatical, but without knowing there was an end in sight.
"At first it was nice to have lie-ins, but after a while, no.
"I was used to work - it was monotonous. I ended up going to work with the wife, just for something to do."
In August 2010 SSI stepped in with promises to reopen the site and bring steelmaking back to Teesside. In February 2011 the firm bought the site and work began to bring back the workforce.
Mr Lee was one of many ex-Corus workers who applied for jobs at the SSI plant, desperate to get back into the steelmaking industry.
"I still had to go through the same process as the new lads," he said.
"I had to fill in an online application, have an assessment, attend an interview and then pass a medical. Everyone had to do it."
Mr Lee started work back at SSI in November to help get the plant up and running again ahead of the furnace being relighted in January.
'Redcar needs this'
An SSI spokesman said relighting the furnaces marked "not only the return of steel making here, but also the rise of Teesside steel" in the global steel industry landscape.
Mr Lee said: "We are determined to do the best for the company, the town and the industry.
"It'll be hard graft.
"But we're all working towards it. SSI have put in £1.6bn, they've invested in us. They need to recoup that, and we're going to work hard for them.
"You've got to remember it's not just about the steel, it's about the area. Redcar needs this. Steel brings in contractors, it brings in suppliers, it brings money into the area.
"SSI have put their faith in the Teesside steelmaker, and we need to put our faith in them in return."