Failed city bid 'benefited' Gateshead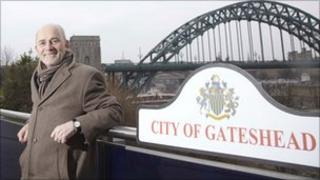 The leader of Gateshead Council has said it is "business as usual" for the town after missing out on city status.
Gateshead missed out on gaining the new title to mark the Queen's Diamond Jubilee to Chelmsford in Essex, Perth in Scotland and St Asaph in Wales.
Councillor Mick Henry said he was "naturally disappointed" but that the bidding process had "brought about benefits" for Gateshead.
He also said he did not rule out bidding again in the future.
Local authorities were invited to submit bids for their towns to take on city status in a process overseen by the deputy prime minister's office.
'Ambitious'
Councillor Henry said: "Naturally we're disappointed not to have been successful this time around, but we know we put together a good bid, which reflected the views of local people, and we gave it our all.
"The very process of bidding for city status has actually brought us benefits.
"It has highlighted just how positive, ambitious and forward thinking Gateshead is on a global stage.
"The fact that many people, here and abroad, already regard Gateshead as a city speaks volumes.
"City status was always just one way of boosting Gateshead, so missing out this time is not a major blow.
"It's very much business as usual and we will deliver on our ambitious plans for the future.
"We will continue to be innovative, to attract investment and improve people's lives."