Paint 'flames' to deter pigeons in Middlesbrough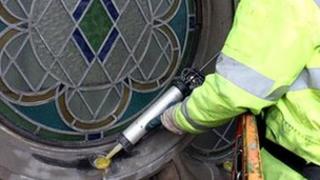 Ultraviolet gel is being used by pest controllers to deter pigeons from statues and buildings in Middlesbrough.
The hi-tech substance is invisible to the naked eye but has a flame-like appearance to the birds. They also find the smell and taste disgusting.
It is being painted on ledges of listed buildings, including the Town Hall, where traditional deterrents such as spikes or netting would be unsightly.
Pigeon droppings are acidic and can damage stone and brickwork.
Middlesbrough Council's Pest Control Team is also asking people using the town centre not to feed the pigeons and to dispose of food waste responsibly.
Councillor Julia Rostron, Middlesbrough Council's executive member for community protection, said: "This virtually invisible high-tech solution is ideal in cases where more traditional methods such as spikes and netting are not suitable."