Port Clarence wood recycling fire still burning after nine days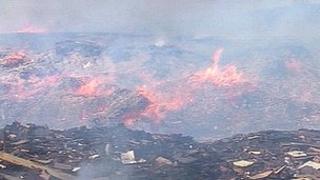 Firefighters are at the scene of a suspected arson attack at a wood recycling facility on Teesside - nine days after the blaze started.
The fire, at the Jigsaw plant in Port Clarence, near Stockton, is not expected to be fully extinguished until the end of the week.
A 170,000 sq ft (15,800 sq m) area - the size of three football pitches - is still being dampened down.
Three men were arrested on suspicion of arson and have been bailed.
A spokesman for Cleveland Fire Brigade said: "We have two appliances that are remaining on site dealing with the remnants of this fire.
"It probably won't be fully extinguished until the end of the week, so we have crews from several locations attending on a rota basis.
"A mechanical digger has been brought in to turn the burning material which is then being dowsed with water."
At the height of the fire 10 crews were at the scene, with water being pumped directly out of the River Tees. No-one was hurt.