North East sports fields in £645,830 Olympic windfall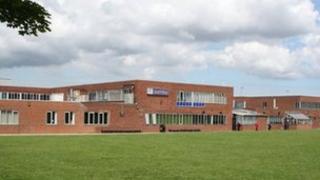 A school on Teesside will be able to bring its playing fields back into full use thanks to £50,000 of funding.
Conyers School in Yarm, had to reduce use of its playing fields for extra-curricular and community activities, but the cash will allow it to be put back to full use.
Head of the school, Louise Spellman, said she was "delighted" at the news.
The funding is part of a share of £645,830 of Olympic legacy funding from Sport England within the North East.
'Health and wellbeing'
"We are delighted to have received this funding so that we can continue to support the growth of school football," said Ms Spellman.
"[This will] contribute to the health and wellbeing of all our students as well as creating more facilities which gives all members of our community greater opportunity and provision in sport."
Six projects across Stockton and Redcar and Cleveland are benefiting from the funding, which will see their playing fields given a new lease of life.
Skelton United FC in Cleveland has been awarded £46,500, and £50,000 has given to Loftus Cricket and Athletic Club.
The National Lottery funding comes from the latest round of Sport England's Protecting Playing Fields fund which works to safeguard playing fields across the UK.
Sport England's chair, Richard Lewis, said: "With all of these playing fields safe from development for at least a generation, communities across the North East can look forward to years of sporting enjoyment."