Durham Police officers guilty of Peterlee station assault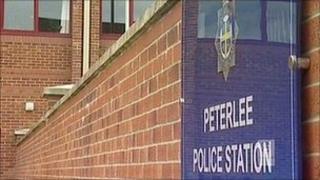 Custody staff at a County Durham police station have been found guilty of assaulting an uncooperative prisoner.
David Healer, 48, from Seaham, had been taken to Peterlee police station on suspicion of breaching bail conditions.
Teesside Magistrates' Court heard Sgt Stephen Harvey, 50, and civilian detention officer Michael Mount, 61, used unlawful force during questioning.
Condemning the officers' actions, the police watchdog said their actions "amounted to a form of torture".
The pair had both denied two counts of battery in the incident which happened last March.
Speaking outside the court after the verdict, Mr Healer said he thought he was "going to die" in the police station.
He said: "I feel like justice has been done. The sad thing is that these two officers have ruined their careers.
"I take no pleasure in that but they did what they did and that is that."
He said he would pursue a civil case against the men for damages.
Magistrates' chairman Oliver Johnson said that in their view they saw "no sign of aggression" from Mr Healer and that the pair had "exceeded" what was necessary.
'Dignity and respect'
Independent Police Complaints Commission (IPCC) Commissioner Nicholas Long said: "It is sad and frankly astonishing that in the 21st Century experienced members of the police service believed inflicting pain as a way of eliciting responses to questions was acceptable."
The IPCC independently investigated the incident and determined that Sgt Harvey had used an arm lock to get compliance from the detainee so he would answer questions.
The investigation also found that CDO Mount followed Sgt Harvey's lead and also applied force to the detainee to get him to answer questions.
In response to the investigation, Durham Constabulary said it expected the "highest standards of professional behaviour" from all its officers and staff.
Supt Darren Ellis said: "When this behaviour is suspected of falling below that level, we aim to take effective action.
"Following this investigation, we have reminded all staff working in custody areas that they need to treat people fairly, with dignity and with respect at all times, and to use only such restraint as is reasonable, necessary and proportionate under the circumstances."
The pair were released on unconditional bail to be sentenced on the 20 April.