Residents across Teesside wanted for Community Speed Watch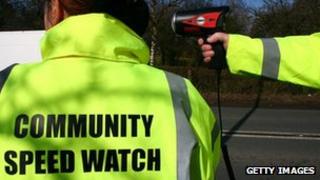 Residents across Teesside are being given the chance to combat speeding on their streets, by volunteering for Community Speed Watch.
The project, run by Neighbourhood Policing teams, will fully train volunteers from the local community to monitor vehicle speeds in their area.
Cleveland Police hope the scheme will help raise awareness of the impact of anti-social driving.
Assistant chief constable Sean White hopes it will have a "positive" result.
The volunteers will work alongside police officers in areas up to a 40mph limit, to operate roadside checks using a Simple Speed Indicator Device and road signage to identify vehicles which exceed the limit.
Mr White, said: "Speeding is a major factor that affects the quality of life in communities.
"The initiative is not an enforcement tool, rather an educational one, by working in partnership with local people we can have a positive impact on driver behaviour in their area, as well as providing reassurance to the local community."
Community Speed Watch is already running in other parts of the country and communities say it has a "significant impact" in their quality of life and a greater feeling of safety.