Dreaming of a new pier for Redcar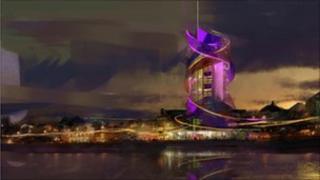 "Redcar without a pier is like Redcar without fish and chips," says Carl Conway, acting chairman of the Redcar Pier Association.
The town has not had a pier for 30 years and the association thinks it is time it did.
There are already plans for an 80ft (24m) high vertical pier as part of the regeneration of Redcar's seafront, but the association wants a traditional one built as well.
David Laing, another member of the group, said: "This is a tower, an 80ft tower. It's not one which goes directly out to the sea, where people can walk along, they can have entertainment on, they can eat their fish and chips on.
"The traditional pier brings people to the seaside."
Mr Conway said: "I think we've lost that link to the sea that we used to have.
"Everybody loves walking out across the water with the planks and the gaps in between, peering down and seeing the sea."
'Sprung floor'
Redcar Pier Association's former chairman Brian Morton used to dance at the ballroom on the old Redcar Pier after shifts at Lackenby steelworks.
He said he would like to see entertainment at the end of a new pier but admitted that something the scale of the old ballroom might not be possible.
"It was a big scruffy building to be honest, but it was a very good dance floor with a sprung floor," he said.
"It was always very busy. I suppose back in those days there wasn't an awful lot else to do."
The association, accepting the council has no "bottomless pit of money", plans to raise the funds to build a pier itself.
It said 500 members, each paying £10 per year, would produce the income required to apply to become a registered charity, which would open the door to other funding possibilities.
A traditional pier, it said, could cost between £5m-£8m, or more depending on what was built at the end in the way of entertainment.
'Seaside experience'
So far 268 people have signed up, including the labour leader of Redcar and Cleveland Council, George Dunning, who has publicly pledged his £10.
He said the council would "support them all we can" and denied a traditional pier would undermine the "difference" of the new vertical pier.
"Let's be honest, I think it's the younger generation who like the idea of a vertical pier and the not-so-young generation who like the idea of a traditional pier," Mr Dunning said.
"If we can get the best of both worlds then I'm all in favour of that."
Mr Conway believes that with Teesside's steel-making and engineering expertise there is no better place to make a pier and he hopes to persuade local businesses to help.
"People will always come to Redcar for the sea air, for the seaside experience," he said.
"If we can build a pier... it will hopefully be something that will keep them in the town and maybe they'll spend a bit more money in the town as well."