Loftus Anglo-Saxon artefact haul wins cultural award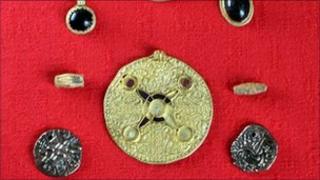 A collection of Anglo-Saxon artefacts discovered in East Cleveland has won a top prize at an Arts Council-sponsored cultural awards ceremony in Durham.
The treasure, found at a grave site in Loftus between 2005 and 2007, has been displayed at Kirkleatham Museum, Redcar, since May 2011.
It includes a gold pendant as well as iron knives, pottery and other objects.
The collection beat Newcastle's Great North Museum and the Beamish Museum to claim the Renaissance Museum Award.
It features rare pieces of jewellery thought to be from the tomb of a 7th Century princess.
It was found at a site containing 109 graves at Street House in Loftus, which dates back nearly 1,400 years.
Archaeologist Dr Steve Sherlock, who discovered the haul together with members of the Teesside Archaeological Society, said it had been the "most successful exhibition ever seen at the museum".
He said there had been a "dramatic" upsurge in visitor numbers since the artefacts went on display, with tens of thousands of people already having seen the collection.
He said: "Winning this award is fantastic for the area; the discovery has excited and stimulated interest in the heritage of Redcar and Cleveland."