Eaglescliffe MoD site could bring 3,000 jobs and 845 homes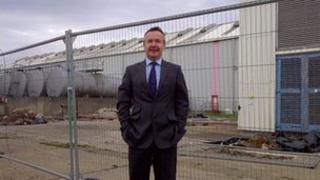 More than 3,000 construction jobs and £350m in investment have been proposed in plans to turn an old Ministry of Defence site into a housing complex.
The scheme in Teesside would see 845 houses, a 60-bed care home with associated retail and community facilities, roads and parking.
The proposal is for the 100-acre Allens West site in Eaglescliffe.
The scheme is to be considered by Stockton Borough Council's planning committee on 9 May.
Planning permission had previously been granted to previous owners for 550 houses on an area of the site.
The site dates back to 1930 when it was set up by Lord Nuffield for the War Department before being used as a Royal Navy supply depot. The MoD sold it in 1997 and the site is currently trading under administration.
The financial institution which owns the site contacted developer Chris Musgrave in a bid to save it after Mr Musgrave rejuvenated the former Samsung plant at Wynyard and the British Polythene Industries PLC (Visqueen) site in Stockton.
Mr Musgrave said the Eaglescliffe scheme would provide a 'lifeline' to a site facing a bleak future and provide a massive boost to the local economy.
Mr Musgrave said: "Development is the only answer to the site's viability and its hopes of having any kind of future."