£35m radiotherapy centre opens in Middlesbrough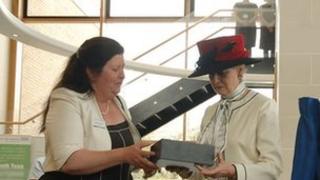 A £35m radiotherapy unit has opened at a Middlesbrough hospital.
The centre at James Cook University Hospital began receiving cancer patients in October but was officially opened on Wednesday.
Health officials said the radiotherapy unit, which features the latest technology and equipment, puts the hospital among Europe's premier cancer treatment institutions.
Princess Alexandra, The Honourable Lady Ogilvy, attended the ceremony.
The unit will operate in conjunction with existing cancer treatment facilities at the hospital, and features three £1.5m Elekta Agility linear accelerators used in radiation therapy.
The hospital is one of the world's first to offer treatment using the linear accelerators, which are more accurate than standard machines, helping to reduce the risk of side effects according to doctors.
Fiona Milnes, radiotherapy services team leader, said the technology would "put James Cook on the map".
"Demand for cancer services is increasing all the time and this expansion gives our patients access to the very latest technology in a purpose-built unit," she said.
The hospital's chemotherapy day unit has also been upgraded and extended as part of the £35m project, while the hospital's main radiotherapy department has been renovated.