Old Eaglescliffe MoD site housing redevelopment plan on hold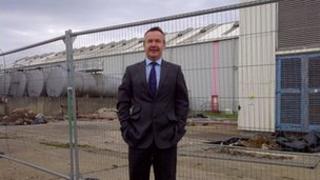 Plans to turn the former Ministry of Defence (MoD) site in Eaglescliffe into a housing complex have been put on hold.
Stockton Council was due to make a decision on whether to allow the £350m redevelopment to go-ahead.
But plans for the 845-house scheme, at the 100-acre Allens West site, have been deferred over concerns about extra traffic in the area.
Planners will reconsider the revamp by developer Chris Musgrave on 30 May.
The site dates back to 1930 when it was set up by Lord Nuffield for the War Department before being used as a Royal Navy supply depot.
The MoD sold it in 1997 and the site is currently trading under administration.
Mr Musgrave said the Eaglescliffe scheme would provide a "lifeline" to a site facing a bleak future and provide a massive boost to the local economy.
He said: "Development is the only answer to the site's viability and its hopes of having any kind of future."