Autistic Redcar girl left locked on school bus alone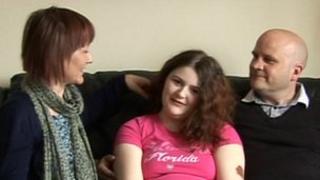 An autistic Redcar teenager who has the care needs of a young child was left locked in a school bus for 45 minutes.
Ellie Wales, 16, was left at a council depot after the driver of her special school bus failed to take her home or to notice she was still on board.
The driver has been suspended and Redcar and Cleveland Council has apologised and promised to investigate.
Frankie Wales said what happened to his daughter was "unbelievable" and an "absolute nightmare".
"I was absolutely traumatised at the time, when we realised that Ellie wasn't in and she wasn't on the bus, we were just thinking 'where is she?'
"We were told that she'd got on the bus and we rang up the bus company and they rang the driver and he said she wasn't on the bus. We were panicking at that point."
'Extreme shock'
Mrs Wales said her daughter was left very upset and anxious and had since repeatedly sought reassurances that she would not be left "in the bus car park" again.
"Because she has autism she very much needs a routine and she needs to know what's happening all the time," she said
"She hasn't got the skills to rationalise things and think how she could have got herself out of that situation."
Redcar and Cleveland Council leader George Dunning said: "It is an extreme shock indeed.
"It doesn't happen very often but once is far too often and we're going to make sure it doesn't happen again.
"We are very, very sorry."