Redcar SSI plant workers begin first shipment loading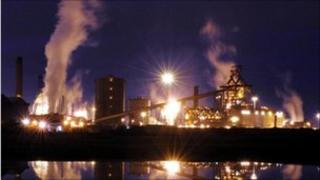 The first steel slabs created at the SSI plant on Teesside are being loaded onto ships for export to Thailand.
The 48,000-tonne consignment worth £18.5m, is expected to leave Teesport on Tuesday.
Phil Dryden, Chief Executive of SSI UK said the shipment was an "important milestone".
The former Corus site in Redcar was mothballed more than two years ago, but in April the furnace was relit and the plant reopened.
Mr Dryden said: "We are delighted with the progress made since the recommissioning of operations last month, and the first export shipment is another important milestone for us in establishing the SSI UK Business."
Paul Warren, chair of the multi-unions at the plant, said morale amongst the workforce was high.
"The lads have a sense of achievement, they were training for three, four or five months and it was all about waiting for this day when they were going to start producing steel.
"So when the day actually came, they were well trained, they were up for it and they've done really well."
The first steel slab was produced by the SSI plant on 18 April.
Many of the 1,600 workforce who lost their jobs at the time have been re-employed by the new owners, SSI.
Simon Hancock, from the Thai-based company, described the return of steelmaking to the area as a "magnificent achievement".
Workers and company officials applauded as the first slab came down the conveyor belt in April.
The 24-tonne block was dedicated to the memory of union boss Geoff Waterfield, who had battled to retain the Redcar plant before he died in August 2011.
His 11-year-old son, Wills, relit the furnace at the special ceremony.
Once the plant is at full capacity it will produce up to 400 slabs of steel a day, each weighing up to 33 tonnes.