Botox made 'massive difference' to Billingham migraine sufferer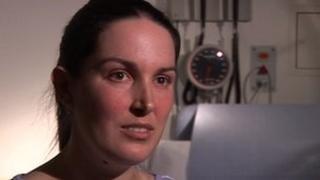 A Teesside woman has welcomed the news that the anti-wrinkle drug Botox could be made available to patients with chronic migraine via the NHS.
The National Institute for Clinical Excellence (NICE) has recommended it for use where other drugs have failed, and is now considering whether the NHS should fund it.
Wendy Thompson, from Billingham, said her life had been destroyed by the blinding headaches.
After receiving Botox injections her condition dramatically improved.
Ms Thompson said it all began three years ago when "I was sitting at my desk at work and got a total blank patch of of vision".
The now 28-year-old went on to develop a permanent headache, and the effect was devastating.
"I've lost three years of my life," she said.
"It's destroyed my career as a civil engineer, I was heading on to my chartership, and that's put paid to it.
"I've got lovely little nieces and nephews and can't stand to be with them because I can't take the noise, and I lost most of my friends who didn't understand, thought I was just fobbing them off because I couldn't go out."
Although she tried various forms of medication, nothing had any effect.
"Basically, I've tried every different drug that's available for migraines as well as alternative therapies," she said.
'Brilliant' effect
"I even paid for a blood test to see if it was food allergies causing it.
Eventually, she was referred to a headache specialist and was offered Botox, for which she paid privately.
The experience was "quite scary, you have 31 injections and can really see the needle coming at you", but the effect was "brilliant".
"The pain hasn't gone completely but on a regular basis it was seven or eight out of 10, now it's down to two most days," she said.
"I can do things, spend time with my nephews and nieces, it's so wonderful just to be back to normal.
"It's not just a weight off my shoulders, but my family as well. My parents were suffering too, it's made a massive difference to us all."