First Redcar SSI steel shipment leaves Teesport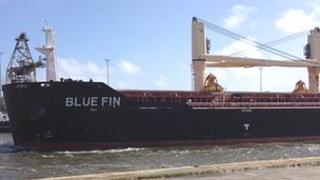 The first shipment of steel from Teesside's SSI plant has set off for Thailand.
It follows the relighting of the furnace at the former Corus site in Redcar last month - more than two years after it was mothballed.
The Blue Fin left Teesport with its 48,000-tonne cargo earlier. The journey is expected to last just over a month.
On arrival, the steel will be used mainly in the automotive sector, with some turned into white goods.
Next week a record 88,0000 tonnes will be shipped out, the largest steel shipment to leave Teesport.