Eaglescliffe shops fire started deliberately: Police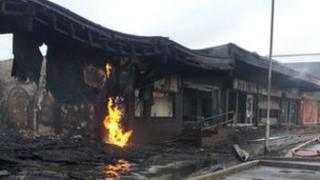 A fire which destroyed a row of shops in Cleveland was started deliberately, police and the fire brigade have said.
The blaze started at 01:45 BST on Saturday, with about 40 firefighters attending the scene in Durham Lane, Eaglescliffe.
A pizza and fish shop, Indian takeaway, hairdressers and bookmakers were forced to close because of the damage at the complex, known as Orchard Shops.
Police believe the fire was started in the pizza shop.
Durham Lane was completely closed to the public on Saturday following the blaze in order to allow police and firefighters to investigate further, but has since reopened.
Structural engineers and loss adjusters have visited the site to assess the extent of the damage and will determine whether it can be redeveloped or whether full-scale demolition will be necessary.