Stomach op couple Dave and Debra Brassell lose 17st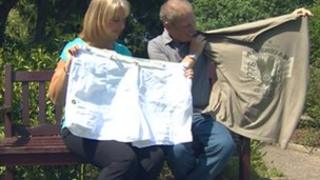 A couple has lost 17st (108kg) between them after they underwent surgery on the NHS.
Dave and Debra Brassell, from County Durham, used to weigh 20st (146kg) each. They were desperate to shed weight but had failed on various diets.
After meeting a woman on holiday who had had stomach surgery, they were referred to the Darlington bariatric surgery centre.
Mrs Brassell, 47, and her husband, 44, said they had been given a "life".
Mrs Brassell, of Bishop Auckland, said: "They haven't made our life they have given us one - we just had an existence before, we didn't have a life - all we used to do was get up and wonder what we were going to have for dinner or go out for meals.
"For 10 years of our married life we had separate rooms because fitting two large people into one bed was quite a struggle - things are so much better now."
The operation is often considered a last resort after other weight-loss regimes have failed and patients have shown they are committed to losing weight before having surgery.
Mrs Brassell had a gastric bypass in November last year, which costs between £6,000 to £8,000 and involves surgically "dividing" the stomach reducing its size so it can take in less food.
In January, Mr Brassell underwent a gastric sleeve procedure which involves having a large portion of the stomach removed and costs about £4,000.
'Cost-effective'
The Darlington bariatric surgery centre, based at the Memorial Hospital, has operated on 30 patients since it opened in September last year.
Mr Brassell said: "I've had friends who I've known all my life walk past me in the street. My work photo is a different person."
Bariatric surgeon Akeil Samier said: "With regards to health problems such as diabetes, hypertension and cardiac problems it is often more cost-effective to perform surgery to avoid them in the long term."
Sheryl Cameron, bariatric specialist nurse, said: "It is wonderful to see how happy the couple are after the surgery and how grateful they are for the support we have given them. It is a dream job for me as a nurse."