Choir highlight at Stockton's Infinity Festival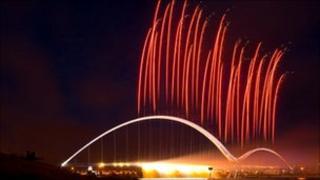 A community choir of more than 1,000 children have performed at Stockton's Infinity Festival - an annual homage to the River Tees and its bridge.
The Infinite Voices choir led procession to the Infinity Bridge to the sound of Northumbrian Pipes on Saturday.
Hundreds of rowers took to the river as part of the event's regatta by competing upstream from the barrage.
The bridge across the Tees cost £15m when it was built in 2009.
Councillor Ken Dixon, Stockton Council's cabinet member for arts, leisure and culture, said: "The interest in Infinity Festival was spectacular this year with 280 crews entered in to the regatta."