Seaton Carew new flood wall to protect 440 homes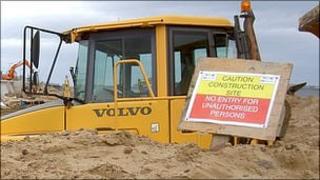 Work is to begin on the second phase of multi-million pound coastal defence work to protect 440 seaside homes.
More than £1.5m has already been spent strengthening coastal defences at Seaton Carew seafront from the Staincliffe Hotel to Station Lane.
Now Hartlepool Council has secured £3.5m to begin work on a further 700m stretch of coastline.
The work will involve removing and replacing the crumbling sea wall over the next few months.
The Environment Agency is contributing £3.5m towards the £4.3m cost of the latest phase.
The remaining funding is coming from the council, potential developers and Northumbrian Water.
Hartlepool Mayor Stuart Drummond said: "The threat of rising sea levels and coastal erosion along Britain's coastline is a serious one, and Hartlepool is no exception.
"The old sea wall is in poor condition and together with the urgent works completed last year, this scheme will reduce the risk to over 440 residential properties from coastal erosion."