Corn snake discovered by Middlesbrough refuse collectors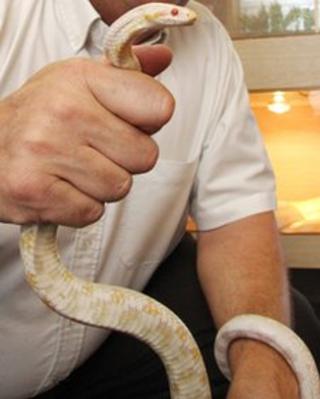 Refuse collectors on Teesside have found a snake behind a bin while doing their rounds.
The 2ft (60cm) snake was discovered as the Streetscene workers removed waste from a bin in a town centre alley.
Middlesbrough Council's pest control manager Chris Hudson identified the reptile as a snow or albino corn snake.
The non-venomous creature was safely removed and is now in a vivarium in a local pet shop while its owner is sought.
Mr Hudson said: "It was curled up behind a bin when I found it. I am used to dealing with rats and mice, wasps and bed bugs, so a snake is very unusual."
Anyone who believes the snake is theirs is asked to contact the council's pest control service.
Corn snakes are a North American species that constricts their small prey.