Bone marrow search to save Teesside baby Danny Bryan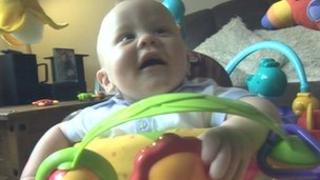 The family of an eight-month-old baby from Teesside who could die from a common cold has launched a worldwide appeal for a bone marrow donor.
Danny Bryan has Wiskott-Aldrich Syndrome - a rare genetic condition that means he cannot fight infection.
Doctors have told his mother Claire Bryan, 26, that he will not survive childhood without a transplant.
The team at Newcastle's Royal Victoria Infirmary are hopeful however a donor will be found within a few months.
"No-one survives the disease without a transplant because they could get an illness they can't fight - he could get a cold and this could kill him," Miss Bryan, of Keats Road, Normanby, said.
"At the moment, Danny looks healthy and the only visible sign that there is anything wrong is his eczema.
"But we are keeping our fingers crossed, the search has been going on for a month now and the doctors think there are three or four possible matches.
"Thankfully, Danny has a quite common bone marrow type so they think he's going to find a good match."
'Sterile bubble'
The world-wide search for a donor is being carried out by blood cancer charity Anthony Nolan UK.
When a donor is found, Danny faces 10 days of chemotherapy before an operation can be undertaken.
Afterwards, he will live in a sterile "bubble" for months, and physical contact with others will be restricted.
Gill Johnston, fundraising manager for the Bubble Foundation, a charity which raises money to help save the lives of children born without immune systems said problems can arise after the operation.
She said: "The actual procedure bone marrow transplant itself is like a transfusion and only takes an hour or so. It is afterwards when patients are kept in isolation that complications can set in.
"Danny will be staying in a sterile environment and this can be a long time - we have children stay from as little as four weeks to two years before they were ready for the outside world."