Middlesbrough councillors' cars set on fire outside homes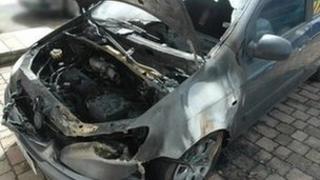 Cars belonging to two Middlesbrough councillors have been torched in arson attacks.
Police are treating the incidents, which happened over the jubilee weekend, as linked.
Det Ch Insp Alastair Simpson said: "If these crimes are motivated as attacks against elected officials, it is also of concern for the wider community."
Middlesbrough mayor Ray Mallon described the attacks as a "cowardly assault on democracy".
The first car was targeted outside a house in Coulby Newham shortly before 02:00 BST on 2 June.
A second car was set alight in Linthorpe just after 02:30 BST on 5 June.
The Labour councillors involved have not been named.
Police want to speak to a man seen close to the scene of the first incident. He is described as being young, 5ft 10in and wearing a grey shirt.
Officers from Middlesbrough Council are assisting police with the investigation.
Mr Mallon said: "I am satisfied that these attacks are linked and that the victims were deliberately targeted because they are councillors.
"There is a tiny minority of political obsessives in this town who believe they can intimidate and bully councillors out of office, but in this instance it seems their obsession has spilled over into criminality.
"This is an outrageous attack on democracy by people who prefer the petrol bomb to the ballot box."
Police are exploring potential motives for the attacks.