Teesside University professor helps Qatar's World Cup preparations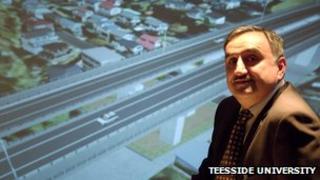 A Teesside academic is playing his part in preparations for the 2022 World Cup in Qatar.
Prof Nashwan Dawood is supporting local firms in researching how 3D technology can contribute to the multibillion-pound project to build stadiums for the finals.
The 2022 World Cup will be the first to be held in an Arab state. Up to £138bn is expected to be spent on stadiums, facilities and infrastructure for the competition.
Prof Dawood, director of Teesside University's technology futures research institute, is a specialist in building information modelling (BIM) technology used commonly in the UK and Europe.
The software tracks the amount of materials needed, the likely cost and timescale for projects.
'New cities'
Teesside and Qatar universities have organised a series of events alongside a construction company in the Gulf to share best practice ahead of the building programme for the World Cup.
Prof Dawood said: "There are plans for 15 stadia, eight of them will be new with others refurbished.
"Other major work will be with the trains and the underground. They also plan to build 70 hotels and a couple of new cities."
Prof Dawood estimates the use of BIM can lead to cost savings of up to 7% for major schemes such as the World Cup project when deadlines are more important than ever.
He said: "One of the problems there has always been in construction is the element of having to 'suck it and see'. You start to do the work and then suddenly there are a lot of problems.
"Now we can simulate the processes in advance on a computer screen in 3D."
"You can virtually iron out problems before they happen," he said.