Acklam Grange school's Africa project changing lives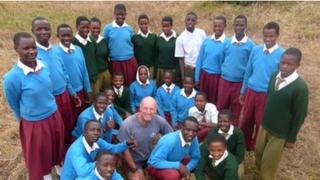 A Teesside deputy headteacher who set up a project to help African children access a better education says it will go from "strength to strength" when he retires this month.
Peter Swan will leave Acklam Grange in Middlesbrough after 17 years but insists his dedication to the scheme that has inspired young people in the town to help those thousands of miles away will remain.
Mr Swan first visited Africa with his wife in 2003 and was moved to do as much as he could to help fund school projects.
Since then, pupils from Acklam Grange have returned to Kenya and Tanzania every two years and funded building projects and places for children who might otherwise have gone without an education.
Mr Swan said: "My holiday in 2003 was meant to be a safari trip, that was something I'd always wanted to do as a kid, but once I got out there I realised there was another side to it.
"When I saw what the education system was like the whole ethos of my trip changed."
A year later the first group of staff and children from Acklam Grange visited the Lesiraa School in Tanzania.
Mr Swan said: "Their response was phenomenal. They saw the African children being taught in wooden shacks with no windows or doors.
"They left several hundred dollars there and then. They were saying 'we can't just cry and then go home, we've got to do something about it'."
Generosity
Since the first trip, around 25 pupils have travelled to Africa every two years.
"The kids raise the money themselves to go out there. The project has now funded 10 classrooms in three primary schools and there are 86 children sponsored by the people of Middlesbrough.
"In Tanzania only one in 20 children goes to secondary school. The project pays for the kids to go to boarding school where they get fed as well."
Water tanks, sports equipment, texts books and other classroom materials have also been bought.
Mr Swan said Acklam Grange pupils had helped to "change the lives" of African youngsters and that the project was an example of the generosity of families living in Middlesbrough that was rarely spoken about.
He leaves the school next week but the Meserani project will go on.
"I'm retiring so that I have more time to work on the project, not just the fundraising but spending more time out there," he said.
"I hope it's going to go from strength to strength.
"It's a school-based project, we haven't got a big company backing us, nobody gets paid for it, there's no expenses taken out.
"We're really proud that it's a Middlesbrough project."