How a Teesside mother is turning her life around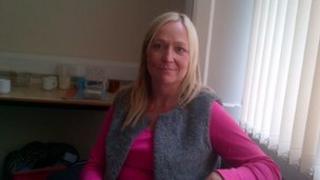 Lisa Bannister's life was turned upside down by drugs.
Her body clock was skewed by her amphetamine addiction, leaving her asleep for most of the day then doing the household chores at night when she should have been in bed.
Her eldest daughter Sara, then in her late-teens, was petrified to leave her mother's side.
Ms Bannister said: "My daughter would sleep in my bed with me and watch DVDs and sometimes she couldn't wake me up.
"I found out afterwards that she was scared to leave me in case I'd had too much and I would die.
"She used to work and come in and I would be up and about doing jobs that you would do in the day."
Now 40 and recovering from her addiction, the mother-of-two from Middlesbrough understands how her habit affected her children.
'Tip of the iceberg'
A report presented to Middlesbrough Council's executive this week revealed there were 2,275 under-18s in the town living with at least one parent or carer being treated for drug addiction.
A further 680 are living with someone having formal treatment for alcohol addiction.
The panel who prepared the report admit the problem is probably more widespread.
Its chair, councillor Jeanette Walker said: "This is only the tip of the iceberg. The true extent is most probably higher."
Across the UK, the Children's Society estimate there are 1.2 million children living with a parent or carer who uses drugs or alcohol.
Other Middlesbrough councillors described the town's figures as "bristling" and "frightening".
Mike Carr, the authority's executive member for children, families and learning, said it was vital the council continued to intervene early to support families.
The statistics do not shock Ms Bannister, who is being supported through her own recovery by Hope North East, where she is a volunteer and has been attending regular sessions since April.
She said: "I would take amphetamines for confidence really, I'd been taking them for 15 years.
"When I wasn't doing that I was drinking or taking prescription drugs. I knew it was wrong but I didn't know there was help for an addict.
"I felt like I couldn't be honest before."
At Hope North East, groups help each other through their more difficult patches and share experiences to make each other stronger.
Ms Bannister reflects happily on how she has seen friends improve.
"At the groups you can talk openly and honestly about what you were like and what you did," she said.
"I'm not scared of saying I had a relapse last year.
"Before I didn't know who to talk to about it or where to go, it was just by chance that I found out.
"It's more real here, I've always been used to keeping secrets all my life, I've always been used to telling lies but here people can be 100% truthful.
"I'd never lie to my daughter again.
"I used to say to my daughter 'I haven't been paid' when really I'd just spent it on that and she would have to look after herself, me and our pets."
Relationships
Ms Bannister feels closer than ever to Sara, now 20, and her younger daughter Mary-Ellen, 16.
Mary-Ellen lives with her grandparents but looks forward to telling her mother all about her day.
"She shares her problems as well as her happy times with me," Ms Bannister said.
As for Sara, she is proud of her mother's progress.
Ms Bannister said: "She's happy when I say I've been to my user group, she shares things with me, things that before she probably did on her own.
"She couldn't come to me because as I wasn't much use to her.
"Now she asks me for help and she introduces me to her friends or people who she works with. Our relationship has improved by more than 100%."